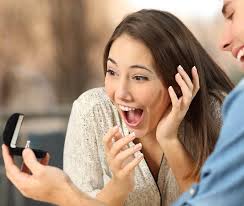 When is Proposing with a Fake Ring Appropriate and Sensible? 
Published On January 12, 2021 |
Fashion
Proposals are meant to be special. However, these special occasions tend to turn nightmarish. For instance, many men who propose near lakes or rivers tend to drop their valuable rings into the water. Similarly, men often hide their rings in public places for their special partners, only for them to lose the thousand-dollar ring! To avoid such scary and financially damaging situations, people must be open to the idea of proposing with fake rings. Here are some situations when proposing with fake rings is acceptable. 
Out of Budget
Many times, men want to gift their wives with super-expensive rings, but their budget prevents them from doing so. In such situations, proposing with a fake ring completely makes sense. Men can tell their future wives that they can upgrade the stone in the future. Even better, they can customize the ring together in the future! The fake ring serves as an ideal placeholder. For instance, rings made from Moissanite, White Sapphire, or Cubic Zirconia look exactly like diamonds bust cost much cheaper. Proposing with rings made of these materials and promising your partner to upgrade them in the future makes total sense! Doing so also gives the couple clear objectives they want to reach! By the time they can afford to get an authentic diamond ring for their engagement, they can pick the perfect design, cut, style, etc.! 
Settling on the Perfect Style
The great thing about proposing with a fake diamond ring is that shoppers get a plethora of options. Numerous highly-skilled jewellery designers currently lead the faux diamond ring market. These imitation jewellery designers get to experiment with their craft in a way that designers who work with high-priced diamonds or gold cannot. That's why the imitation jewellery market is exploding at the moment with countless amazing designs and styles. People planning to propose with fake rings have countless design options to pick from!