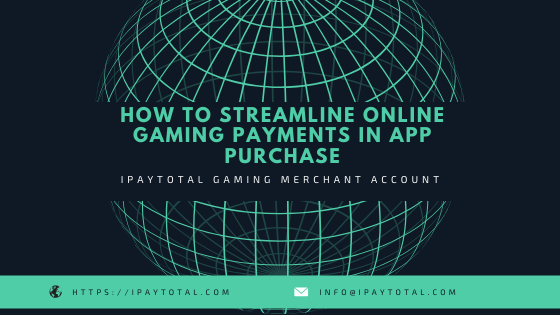 How to Streamline Online Gaming Payments in App Purchase
Published On October 30, 2019 |
Casino
The gaming industry is growing rapidly and has become a lucrative market. The consumers are predicted to spend $137.9 billion on games where online and mobile gaming eats up the larger chunk of it. This is great news for online gaming merchant like you. If you want to continue and enjoy this advantage, you focus and acknowledge your online gaming payment for your loyal players across the globe, all in real-time. iPayToTal's online gaming payment account offers you a level of service that will help your business grow and heighten its profits.
Believe it or not, women composed the biggest gaming demographics nowadays. They spend more time and money on mobile gameplay than men. Moreover, 59% of mobile gamers are employed individuals and are not just teenagers that are playing games for fun. These are potential customers that an online gaming merchant business must focus on.
Gaming apps are pieces of software designed to be played on mobile devices, tablets or computers. Gaming apps cater to a wide range of ages from young children and teenagers to adults.
In-app purchases are items, additional content or services that gamers purchase through an app and paid with online gaming payment, once the app is already installed in the gamers' device.
There are basically 4 types of In-app purchases.
Consumable

– these are items that are bought at any time the during the game and the said items are not for free or downloadable. The consumable purchases might be loss once the app is removed or if the app is installed on a new device.
Examples of Consumable In-app purchases are:
Virtual game currency

Additional Hints of the game

Extra Health or Extra Life

Extra experience points for the game character
Non-consumable

– These items are bought one time only and can be transferred to other devices associated with the Apple ID or Google Play account. It can still be restored once lost during the transferring of the device used.
Examples of Non-Consumable In-app purchases are:

Upgrade to Premium or Pro edition

Removing ads shown in the game

Unlocking of a full game or all chapters

Unlimited game hints

Extra or additional game characters

Additional accessories

Bonus game levels

Game guide maps
Non-renewing subscriptions

– These are game content that can be used for a fixed period of time and can be bought again after the subscription ends.
Examples of Non-Renewing Subscription In-app purchases are:
Sports season pass

Subscriptions for a set period of time which can be one, three, or six months.
Auto-renewable subscriptions

– These are services or contents that are bought for a specific subscription period and renews at the end of the initial subscription period. The subscription period varies in length and can be weekly, monthly, quarterly or yearly.
Most of the online gamers have one thing in common and that is to be immersed in the gameplay and these gamers are willing to pay for the full experience. Mobile games have been able to upsell a lot and you must take full advantage of the gaming market by creating lots of opportunities for gamers to pay extra through online gaming payment for more in-game perks. Remember, all the transactions must be seamless, simple and secure for gamers so that they could complete their in-game purchases because premium mobile customers and online gamers who subscribe are both willing to pay on any online gaming payment to have the best gaming experience. 
If the transactions are hard to complete, merchants may eventually lose customers. That is why streamlining the online gaming payments are utmost important because in-app purchases help in growing and establishing the business. And there is where the right merchant account provider comes into the picture.
The right Online Gaming Merchant Account provider helps the online gaming merchant by providing the following.
Variety of payment methods
Providing flexible online gaming payment methods can be of great help for a gaming business because although credit cards have been the most popular method for gamers to pay their purchase, 51% of the overall transactions for online gaming are carried through alternative payment methods such as e-wallet, additional billing through the mobile carrier and direct debits. It is also important to be able to process international currency to cater to the international markets.
If the players are not able to see their preferred option method, there is a chance that they will not pay for in-game purchases. The gamers must not also be restricted by currency restrictions. These must be done to avoid losing a customer. Having the right payment processor helps optimize online gaming payment, thus helping in retaining customers and growing the business base.
Check out process must be simple
Nobody wants to spend a lot of time checking out especially online gamers because they want to resume playing their game. It turns them off to have a long transaction process because it keeps them from playing. The processor must be able to provide the merchant with a online gaming payment solution that can be offered to gamers that is simple, secure and can give the option for the flexible recurring bill. Quick and easy purchases help in giving the customers a hassle-free check out.
The payment gateway must be secured
All customers want to have their payment information safe and secured otherwise they will not purchase anything. The merchant must make sure that the payment processor is at least PCI-DSS (Payment Card Industry – Data Security Standard) Level 1 compliant. The processor must allow credit card authorization directly from the online gaming merchant's website. Also, the payment processor must have built-in fraud prevention tools.
All of these criteria must be kept in mind when searching for the right payment processing account.
To be able to have more revenue, another goal of the merchant is to build the app's revenue stream by implementing the right monetization strategy such as.
Choosing the right monetization model
Online gaming merchants should be knowledgeable when it comes to monetization options that are available on Google Play and Apply App Store, so that, they could combine it with the said options that could maximize the game application's revenue. 
b) Sell in-app digital goods
Selling other digital goods within the free-to-download or ad-funded apps provide an additional revenue source.
c) Sell subscriptions to customers
More regular revenue is generated by providing the option to a paid subscription to be able to access game contents or features.
d) Allow customers to pay via credit or debit cards
Gamers must be able to pay through online gaming payment such as credit or debit cards to simplify and streamline the payment for the customers.
e) Allow customers to buy apps through direct carrier billing
Major mobile provider nowadays offers direct carrier billing which allows customers to charge their in-app purchases directly to their monthly phone bill or to deduct the cost from the prepaid balance.
f) The show paid ads with Google Ad Mob
Get additional payment from over 1 million Google advertisers by showing these ads to the gamers.
Also, you must pay attention to the paying players of the game app, so that you could encourage them to pay more and to increase the number of paying users by using Google Analytics for Firebase which is a free app measurement solution that can provide insight on app usage and user engagement. Insights into user behavior are very useful to optimize the conversion strategies of the business. Understanding how the players use the app can help the merchant grow the game revenue and also to set and manage the revenue targets.
iPayToTal: Online Gaming Merchant Account
If you are looking for an Online Gaming Merchant Account, you are in the right place, as iPAYTOTAL provides the best solutions for Low and High-Risk businesses. We guarantee quick real-time credit card processing, top-notch services and at reasonable rates. Give us a call at +44 800 776 5988 or get in touch with us through our website and enjoy our numerous online gaming payment optiosns.