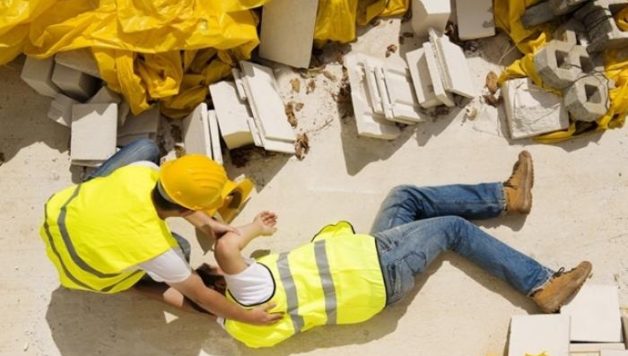 Types of accidents at work
Published On July 23, 2019 |
Business
Accidents that cause illness or injury at work are more common than you might think. Although for the majority of the time the injuries and illnesses suffered by employees are not serious, sometimes they are. This can have a devastating impact on the life of the person who has suffered and their family.
There is a variety of different types of accidents that can occur in a workplace, with many of them depending on the nature of the work itself. There are, inevitably, some workplaces which are more dangerous than others. For example, there is a higher risk of an accident happening on a construction site than in an office, but there is also a wider range of illnesses or injuries that can occur as a result of an accident on a construction site. 
However, that isn't to say that you have to be performing manual labour at work in order to suffer illness or injury following an accident at work. Accidents can happen in any workplace and can lead to injuries or illnesses developing which can affect you for a long time.
How workplace accidents can make you ill or injured
When you think of a workplace injury or accident you more than likely picture a slip on a wet floor or a fall from a ladder, correct? While these types of accidents do occur, there are a lot of other ways an accident can happen at work and can leave a person injured or ill. The most common injuries and illnesses caused as a result of an accident at work include:
Back, neck and shoulder injuries

Repetitive strain injuries

Breathing difficulties such as asthma

Vibration-related injuries like vibration white finger and hand-arm vibration syndrome

Asbestos-related illnesses

like asbestosis, lung cancer and

mesothelioma

Hearing loss

Dermatitis and eczema
Some of these illnesses or conditions aren't a result of one single accident, but rather recurring exposure to harmful actions or substances. You might not have thought it, but if this is the case you could still make a claim to get compensated for your pain and suffering. 
What are your rights after having an accident at work?
Specialist workplace injury solicitors report that they are frequently asked "I had an accident at work, what are my rights?". To put it simply, your rights as a worker are – for the most part – the same as they were before your accident. You have to right to take time off sick, however, whether this is paid or unpaid will depend on your contract of employment. You also have the right to seek medical and legal advice if you believe that the accident has made you ill or injured and was a result of your employer's negligence.
Furthermore, your employer is not allowed to fire you simply because you have had an accident and/or are seeking professional advice about what steps to take next. As long as you are legally entitled to make a legal claim, your employer is not allowed to prevent you from doing so. You also have the right to work in the same way as you did before the accident, and as long as you are able to do so they cannot get rid of you. However, you should consider whether your accident was worthy of trying to pursue a legal claim if you are able to continue to work.
How to pursue an accident at work claim
If you have a genuine illness, injury or condition that has been caused by an accident at work, you might be considering pursuing an accident at work claim. As mentioned above, you have the legal right to do this, and your employer should not prevent you from exercising your rights.
The first step you should take is to seek the advice from medical professionals and legal professionals. They will be able to establish what your illness, injury or condition is, whether it was caused by an accident or multiple instances of exposure to something at work, and if you could pursue a claim. After all that has been established, your solicitor will handle the rest. You will likely need to provide evidence and statements, but you don't have to worry about getting caught in any tricky situations as your solicitor must make sure everything is above board.
Accidents, injuries and illnesses caused by a person's workplace can actually have a lasting impact on their day-to-day life, which is why it's important to know that it is possible to pursue a claim. Claims for compensation are often seen as a way to scam easy money, but actually the whole claims process is carefully structured and monitored, and compensation is calculated to the penny according to how an injury or illness has affected the person making the claim. Furthermore, not only can claims help the person move forward with their life after an accident, but they also help to highlight any problems with health and safety within the company the person worked for.