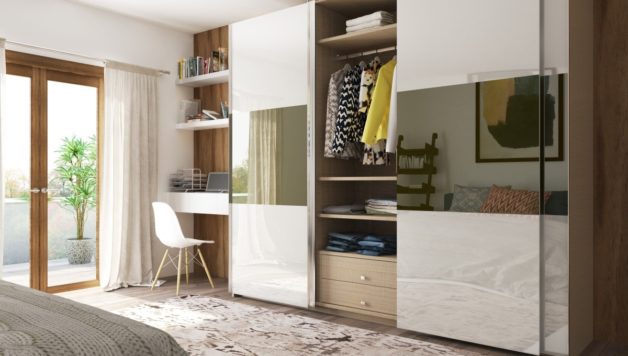 Reviewing modular wardrobe designs: Things to consider!
A modular wardrobe is all about functionality and style. In case of modular kitchens, function always takes precedence over style, but for modular wardrobes, you can balance both. Modern homeowners like the idea because it allows them to have a more functional bedroom, and if you don't have space in the bedroom, you can still install a modular wardrobe in other available areas, such as the store room. Today, modular wardrobe designs are inventive, stylish, sleek, and meant to impress, and at the same time, it is also possible to address specific concerns of every room. So, what are the things that must be considered for creating a modular wardrobe? We have a few ideas that will help in understanding designs better.
Start with your storage needs. Standalone wardrobes and almirahs are boring and usually don't address the need to store varied things, like shoes, accessories and handbags. If you are a fashion diva or someone who likes to shop a lot, you need that extra storage. The best approach to modular wardrobe designing is to understand the storage needs. You need to evaluate what you really need and what can be avoided. For instance, it may make no sense to install big cabinets all the way to the ceiling, if you have enough room for a wall-to-wall design.
Consider doors, mirror and other integration. Contemporary modular wardrobes usually have sliding doors, because unlike hinged doors, these don't take that extra space. Secondly, it may make sense to integrate full-length mirrors on the wardrobe, so that you don't need extra dresser in the bedroom. Some homeowners also prefer having integrated desks and open shelves to keep certain things on display.
Don't miss the aesthetic aspects. You can always design a modular wardrobe that's practical and addresses all storage needs, but the creative and aesthetic aspects also matter. We strongly recommend that you check the theme of your entire home and decide on the color scheme and look of your modular wardrobe. A wise idea would be to hire a reliable installation service that also offers design consultation. You can let their interior experts help with trends, ideas and new designs.
Taking the step ahead
Once you have determined the design of your modular wardrobe, the next step is to ask for estimates. You can always create a budget design, based on your needs, and there are numerous ways to reduce the costs. However, do ensure that you don't compromise on the materials used, so that there's no need to spend on repairs and maintenance, at least for a few years to come. Check online modular wardrobe installation services and ask them to review your space before discussing designs.