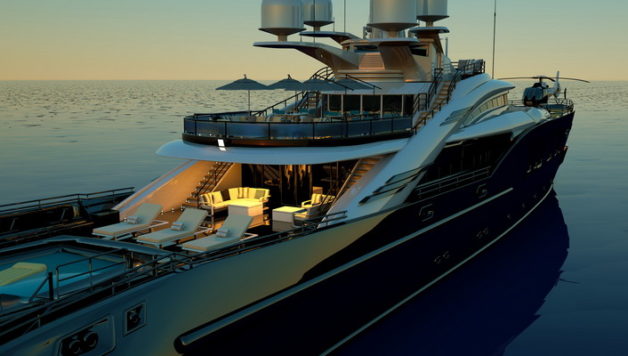 If Bond Villains Had Only Had Carbon Fiber
Published On August 22, 2019 |
Travel
Writers find lots of creative ways to talk about carbon fiber. Some take a technical approach, looking at things like the strength-to-weight ratio of carbon fiber and steel. Others like to talk about how architects are mesmerized by its aesthetic beauty. Still others talk about the sexiness of a car with a carbon fiber body.
Maxim magazine took an entirely different angle in an article published on July 24. The article profiled an incredible carbon fiber and Kevlar super yacht originally built in 2012. The author of the piece introduced his thoughts by dropping the name of famous Bond villain Francisco Scaramanga of The Man with the Golden Gun fame.
Oh, if only Bond villains had had access to carbon fiber back in the 1960s and 70s. Some of the boats and planes in those earlier Bond films could have been quite different. As for the super yacht profiled in the Maxim article, it's a truly incredible piece of work.
140 Feet of Maritime Smack
One glance of the Adastra is all you need to understand why Maxim compared the super yacht to something a Bond villain might own. It looks every bit the part. You could go so far as to say the Adastra is 140 feet of maritime smack. Its owner could say anything he wanted about the boat – no matter how audacious – and you wouldn't have the guts to argue.
In technical terms, the Adastra is considered a catamaran. It is definitely a space-age catamaran if there ever was one. Its sleek, silver hull looks like the front end of a battleship with two sharp wings projecting from the sides. The bridge looks like the cabin of a giant sports car with a huge hood hanging off the front.
Put all the parts together and the Adastra looks a lot like a marriage between a warship, a fighter plane, and your favorite pony car. Look under the hood and this boat suddenly becomes even more impressive.
Sleek and Fuel-Efficient
Adastra owner Anto Marden is now ready to sell his amazing super yacht. He insists she is worth every penny of the $12 million asking price. In terms of specs, start with a lightweight construction design featuring a carbon fiber deck and hulls made from a combination of e-glass and Kevlar.
Choosing these three composite materials made for an extremely light boat that drinks just 4.5 gallons of fuel per hour cruising at 10 knots. The yacht's range is 10,000 nautical miles on a full tank of fuel. That is enough to travel from the Caribbean to Spain and then part of the way back.
Another advantage of using carbon fiber is that designers were able to come up with a sleek profile that would not have been possible with other materials. Salt Lake City's Rock West Composites confirms that carbon fiber and Kevlar were perfect choices for this particular super yacht.  It is hard to imagine the Adastra looking as sleek as it does without the two materials.
As Tough As They Come
To date, the Adastra has withstood pretty serious weather conditions including 50 knot winds during ocean crossings. The boat has never had a major problem on the high seas thanks to an 1150 hp turbocharged straight-six diesel and dual 110 hp backup engines.
Everything is tied together with luxury accommodations and amenities worthy of any Bond villain. Francisco Scaramanga would have been thrilled to own a yacht with amenities he could control with an iPad from 164 feet away. If only carbon fiber and Kevlar had been in his boathouse.