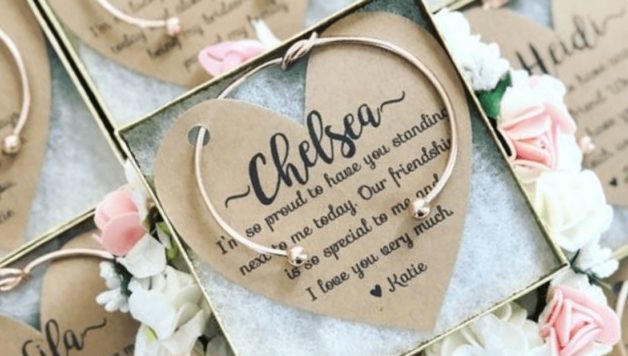 How to save wedding bridesmaid gifts Cost
Published On November 13, 2019 |
Wedding
Weddings can get very costly when you factor in the bridal attire, jewelry, flowers, wedding favors, reception, musicians, photographers, bridesmaids gifts, and the list goes on. Sometimes the bride and groom will have to reevaluate their budget. Doing so may result in making a few unwanted sacrifices. What stays and what goes?
Given the fact that your bridesmaids are your closest friends, you may think that it is okay not to buy gifts for them. Of course they will understand, after all they are your closest friends. Rule number one, when it comes to friendship; do not take anything for granted.
There are many things that a bride can consider sacrificing from her wedding. Why would she feel the need to sacrifice attendants' gifts? There can only be a few reasons why it would be difficult to afford bridesmaids gifts.
You have chosen too many bridesmaids. Although there is no magic number when it comes to selecting bridesmaids for your wedding, it is true that you should ask only your closest friends. If you ask acquaintances to be an attendant in your wedding, then you are going to face several problems. One being that you cannot afford to purchase all of them a decent "thank you" gift.
You are shopping at the wrong places. Buying online is a popular choice among many brides. Not only is it easy to do, it is also cost-effective. Online dealers do not have to worry themselves with overhead costs of a brick and mortar store; therefore, they are capable of offering lower prices. There are several online stores that sell not only quality, bridesmaids gifts, but they are also unique and inexpensive.
You are over thinking the gift process. Bridesmaids are supposed to be your friends. Therefore, they do not require overstated gifts. Although they may deserve something extravagant, buying them something simple and inexpensive will turn the same result. Consider a gift that will serve a two-fold sterling silver jewelry and evening bag.
You have over budgeted in other areas of the wedding. Sometimes the bride and groom will overestimate the cost of certain elements of their wedding. The couple should consider doing a little comparison-shopping. This will allow them to cut corners in other areas so that they will have room for the important stuff–gifts!
It is not easy to be a bridesmaid. Not only is it time-consuming, but it is also financially straining. Bridesmaids deserve a gift for their hard work and dedication. Can every bride afford to say "thank you" to her bridesmaids? With all of the affordable and unique bridesmaids gifts on the market, she can't afford not to.